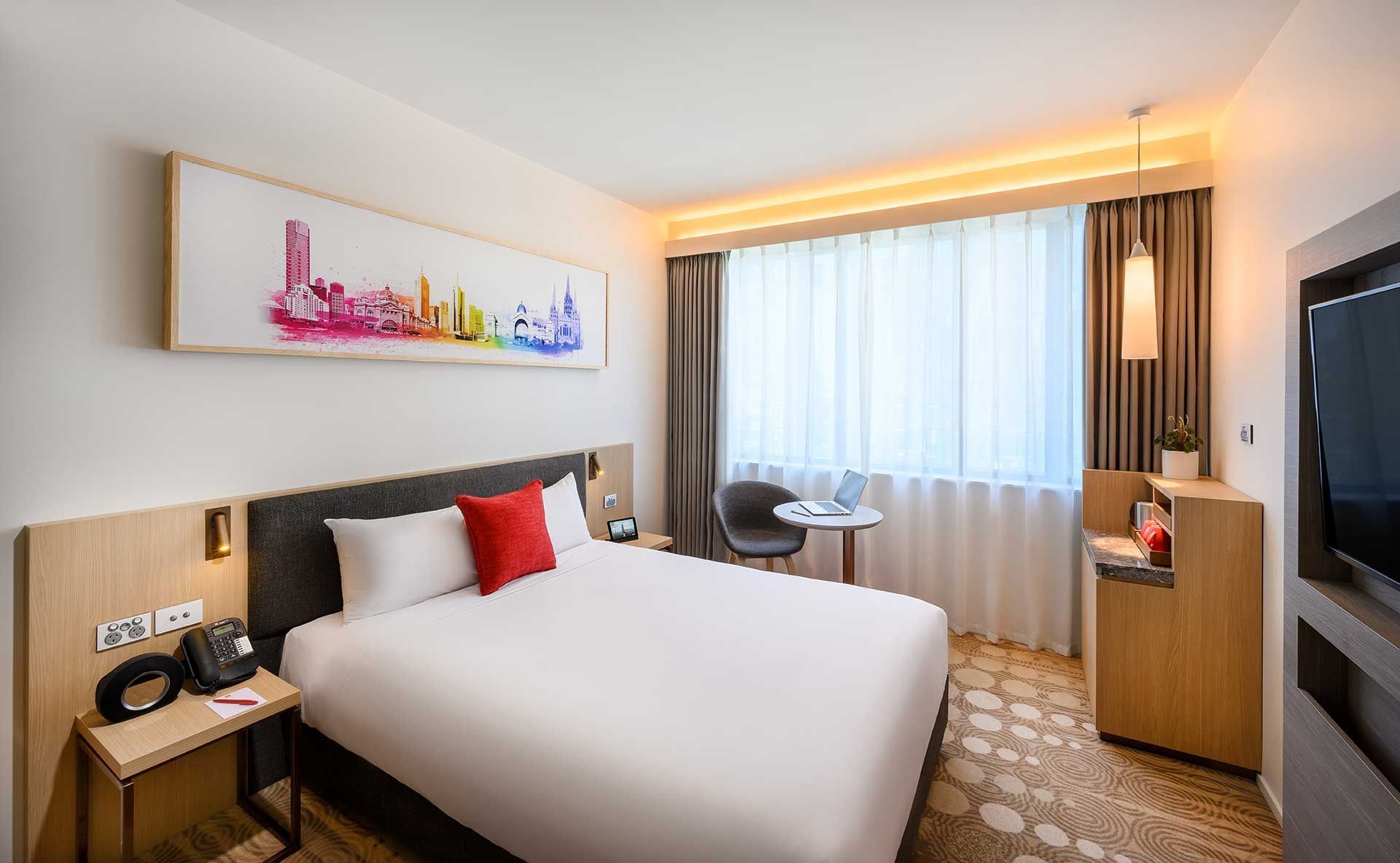 Ibis Melbourne Central Rooms
Welcome to Ibis Melbourne Central, where exceptional service meets contemporary style in the heart of Melbourne's bustling city centre. Ibis Melbourne Central has 5 comfortable room types, making it an ideal choice for budget-conscious guests. Each room showcases the vibrant and classic ibis colour palette and modern features to enhance your experience. Whether you're travelling for business or leisure, our hotel provides the ideal base to explore Melbourne's vibrant and eclectic charm. Our chic, comfortable rooms are designed with the modern traveller in mind. Each room boasts the latest amenities, such as high-speed WI-FI, smart TV, luxurious bedding, and an open-plan bathroom with a rainfall shower, ensuring you enjoy a restful and productive stay. Choose from various room options, all offering a peaceful retreat amidst the city's buzz.

The hotel has a number of amenities to make your stay more enjoyable, including a fitness centre and an Italian steakhouse, Pretty Boy, on Level 1.
Immerse yourself in Melbourne's vibrant shopping and entertainment scene right at your doorstep. We're conveniently located near Melbourne Central Station, making exploring the city's major attractions effortless.
Make your arrival as smooth as possible with our Valet Parking Service. Simply arrive at our doorstep, and our professional staff will take care of the rest. Valet parking is available for $60 a night. Please note that parking spots cannot be reserved in advance.
At Ibis Melbourne Central, we prioritize your comfort and convenience. From our welcoming reception staff to our diligent housekeeping team, every aspect of your stay is carefully curated for a seamless and enjoyable experience. Book your stay with us today and experience Melbourne in comfort and style.